If you need to learn how to use your roll off dumpster so you can properly handle the cleanup project or construction work you have, you've come to the right place.
To efficiently use your roll off dumpster, a lot of planning and organizing is required. Figuring out the best ways to make the most of your container will ensure you achieve the core reason of renting a dumpster with other benefits that comes with it like saving you some cost and time.
In this post, we will be sharing with you the things you need to know in order to make use of your roll off dumpster and get rid of your trash in an environmentally friendly manner.
What Dumpster Size Should You Get
Before determining the best ways to use your roll off dumpster, you have to know a perfect size that will accommodate your trash. Dumpsters come in a variety of sizes including – 10 yard, 15 yard, 20 yards, 30 yard, and a 40 yard dumpster. Knowing the right size to choose is crucial so as to avoid a situation where you rent a dumpster that will not contain your trash or rent one that will contain your trash with enough room you don't know what to do with it. This is because the bigger the dumpster the more it will cost you, so it's of your own interest to choose the perfect size for your waste.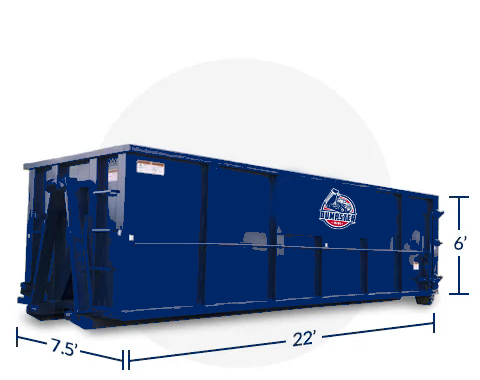 While choosing the right dumpster size for your project, you also have to consider the size of the placement area. If the dumpster will be placed in your driveway or parking area, it is worthy to measure the dimension of the drop-off area to ensure the container fits in properly without any obstacle. For example, a 10 yard dumpster can hold 10 cubic yards of waste, a 15 yard dumpster can hold 15 cubic yards of waste, 20 yard dumpster can hold 20 cubic yards of waste, 30 yard dumpster can hold 30 cubic yards of waste, and 40 yards dumpster can hold 40 cubic yards of waste ― keep in mind that 1 cubic yard is equal to 27 cubic feet.
Don't Overfill Your Dumpster
When filling up your roll off container, you have to ensure that you do not fill it to the extent that the trash will be falling out of the dumpster in transit. This is why it is important to get the right dumpster size for your project to prevent the trash from falling out of the container.
Overfilling a dumpster is not good as it creates more problems for the hauler as well as the public because the trash can fall out of the container which can lead to environmental hazards. It is also illegal in some areas to transport a roll off dumpster that is filled beyond the prescribed line, so it is very important not to overfill your dumpster.
Don't Throw in Prohibited Materials
Knowing the acceptable materials you can put in a dumpster is important to ensure you are following the waste regulations of your city and for the hauler to safely dispose of your waste.
The following items are strictly prohibited to be put in a dumpster:
Refrigerators are prohibited in a dumpster because of the toxic compound it contains known as "Refrigerant"
Hot water tanks are not allowed in a dumpster as they can collect harmful gases in a landfill.
Tires are generally not allowed in a dumpster
Car batteries are not allowed into a dumpster as they can leak harmful chemicals into the environment.
Electronics such as laptops, computer screens, and monitors are not allowed in a dumpster.
Flammable materials such as oils, fuels, and propane tanks are prohibited in a dumpster.
Hazardous materials and liquids such as gasoline, cooking grease, liquid household cleaning products, stain, sealants, liquid fertilizers, liquid weed killers/herbicides, pesticides, paint(wet or dry) asbestos, contaminated soils or absorbents, motor oil, other automotive fluids, and medical waste, are not allowed in a dumpster.
If you are not sure if an item is allowed in a dumpster, kindly get in touch with your local dumpster rental company to confirm.
Here are some materials you can throw in a dumpster:
Most household waste such as clothing, pot, toys, and more are accepted in a dumpster
Wooden furniture such as chairs, tables, bookcases is accepted in a dumpster.
Construction and home improvement debris such as flooring, drywall, wall tiles, and more are accepted.
Heavy materials such as concrete, brick, and asphalt are accepted in a dumpster. Though, you have to order a heavy debris container.
Roofing materials such as shingles are accepted in a dumpster.
Yard waste and appliances.
Basically, any uncontaminated and non-hazardous material can be put into a dumpster, but it is always advisable to reach out to a reliable waste disposal agent in your area, as some things that are accepted in some areas might be prohibited in your location.
Now that you have the right knowledge on how to use your dumpster, let us share with you how to rent a dumpster to avoid any delay from using your dumpster.
Where to Rent a Dumpster
Finding the best dumpster rental company to rent your dumpster is important to avoid an unpleasant experience that could lead to delay on your work site or extra charges you never expected.
When looking to rent a dumpster for your project, it is advisable to find a reputable dumpster rental service that provides on-time delivery with great customer support. These two qualities are very important for any dumpster rental company you choose to work with, as they will determine the kind of experience you will have while working with them.
A reputable dumpster rental company that is committed to providing on-time delivery and a great experience for their customers will ensure that you get your dumpster on time to help you carry out your project without delay. Also, when something goes wrong, their customer service personnel should be able to keep you in the loop and do whatever they can to deliver your dumpster to you.
Checking this option with any company you decide to go with will save you some headache, and ensure you are satisfied with their services.
Reach out to Dumpster Stars at 512-567-3235 to get a free quote for your next project or learn more on simple and fast ways to get your dumpster delivered to your location without any worry.